As is now YouTube tradition, Firefly Studios starts the year by looking at the months of productive game dev ahead for our two upcoming games: Stronghold: Warlords & Romans: Age of Caesar!
Join Nick in our newest video as he takes you through all the exciting plans we have for both our East Asian castle sim and Roman co-op city builder by clicking on the image below: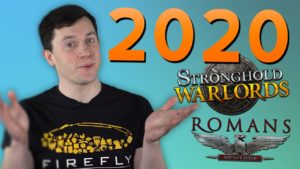 Wishlist Warlords – https://store.steampowered.com/app/907650/Stronghold_Warlords
After an intense 2019, Stronghold: Warlords is on track to be one of the best Stronghold titles yet. Armed with the classic RTS-sim gameplay of its predecessors, the Firefly Dev team have spent the last few months implementing brand new mechanics, upping the animations and of course – making sure besieging feels as good as ever. Now we have our first foot planted firmly in 2020, we plan on continuing forward, squashing bugs and adding new features – with video deep dives to accompany them.
Whilst granaries are set alight from gunpowder experiments and Mongols harass local farmers, half way across the world Rome is being rebuilt. Firefly's other half are also waist high in game dev as Romans: Age of Caesar is designed and built as the first ever online cooperative city builder. With its Alpha 2 well under way, we are nearly ready to showcase the first ever gameplay trailer for Romans, so make sure you've hit that subscribe button with notifications on to be the first to see it!
Even More Links!
Register for Romans – https://playromans.com/
Watch our 'End of Year' Dev Update! – https://youtu.be/BJGQfG2Zvp8