Discover our latest plans for Stronghold Kingdoms and see the first ever screenshots of our upcoming MMO Romans: AoC in this brand-new video series!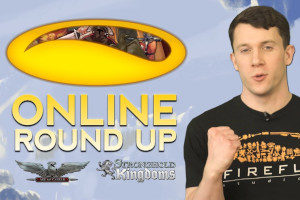 Click the image to watch Episode 1 of our "Firefly Online Round-Up"
Follow us on YouTube for more videos!
Stronghold Kingdoms – In today's episode Nick shares our expansion plans for Stronghold Kingdoms in 2019, including the latest world launches and schedule of recently introduced tournaments. With a tight focus on bringing in additional content and features to the worlds of Stronghold Kingdoms, future episodes will delve deeper into our plans for the game, answer community Q&As and announce what is still to come!
Romans: Age of Caesar – See the first official screenshots and be part of the Alpha!
In case you missed last month's news, Nick fills you in on the details surrounding our brand-new cooperative strategy MMO Romans: Age of Caesar. Set in ancient Rome, players must work together to rebuild the fallen empire and defend its lands from savage Barbarians.
Expect to see more screenshots focusing on other areas of gameplay, footage of the Romans in action and invitations to future Alphas in upcoming episodes!