Our first ever Asian game world 'China 1' is now open to all players! Join now and claim your piece of this new kingdom.
Wait, a new world map?
Indeed, Sire! Due to popular demand, Stronghold Kingdoms has expanded far into to the East to offer a unique strategic battlefield. Centred around the massive kingdom of China, 'China 1' features a total of 6 countries to conquer, including North Korea, South Korea, Japan, Mongolia and Taiwan.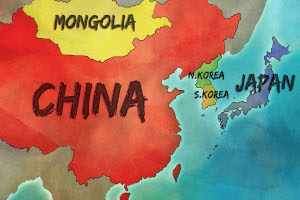 Select your starting position wisely as you prepare your ascent to power. Will you chase quick Glory by claiming the thrones of smaller kingdoms? Or will you set your eyes on the big prize, slowly expanding through China to ultimately cast your veil of power over most of the map? Whichever path you choose, victory will only come to those who reach for it!
Can anyone join?
Of course, my Liege! Just like our USA, Europe, and Global Conflict maps, 'China 1' is not geared towards a single territory or language. Players of all territories are invited to join the fight on equal grounds. In addition, 'China 1' is accessible for both mobile and PC players.
How do I join 'China 1'?
PC:
Open the Stronghold Kingdoms Client
Enter your login details and click on the 'Login' buttons
Click on the 'Select World' button
Within the Available Worlds section, locate 'China 1' and click on 'Join'
Android/iOS/Mac
Run the Stronghold Kingdoms App
Tap the 'Menu' icon
Select 'Swap Worlds'
Locate 'China 1' and tap on 'Join'
If you cannot see the China World, tap on 'Language' and select the Earth icon
What's next?
'China 1' is the first of many new additions planned for Stronghold Kingdoms in 2019. While we can't reveal details about upcoming worlds just yet, you can rest assured that we are continuously working on expanding the game with and for the community. Growing together with the community, we look forward to releasing a range of new worlds, special worlds and gameplay features over the course of the year.
Did I win free strategy cards?
In celebration of today's world launch, we have picked 50 winners in our 'China 1' Facebook Giveaway! Congratulations to the following players who have been awarded with mighty Card Packs and Premium Tokens:
megrelski123, LUCILELACINGLEE, Grex2015, Wesley762, King Merstone, gogi7, Amrah, -VID-, Copax, Lord.Fantini, captain ricard, Vaduziak, antho460, koresh86, nidrieder, garthallus, megaprime, Divine4ngel, DynaToniC, Sir Rude, DoinksTheClown, Kile12345, RUS_Demon, jacytar, Kingpin9410, Retry_fc, Aelara, the real kunight, SByat0Gop, LadyXena,tempest1, Zikk21, Insanefungus, Wazupy99, gilly666, Sergey_Black, N008er, MaestrooCZ, X Dlima Wahbi X, SaraRoman, Drukpa Kyagu, 0Unknown0, Mistigirl, SilvioBerlusconi, San Zayp, Jantoro, Beast647, Leavitt1726, atron warrior, captain jeanmi
No luck this time? Follow us on Facebook and be the first to enter future giveaways & competitions!