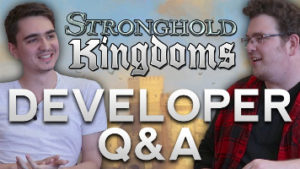 Enter before noon GMT on Thursday 5th July for your chance to win in-game prizes and discover what you can expect from future updates!
Coming Soon to SHK
Seeking new challenges? Contests? Prizes? Then allow us to update you on our immediate and longer term plans for Stronghold Kingdoms. In our latest developer interview, two of Kingdoms' programmers cover everything from new village features, UI improvements, balancing, larger updates and more to give you a clear idea of what the immediate future looks like for the game. We also reveal new details about the upcoming events-based 'Tournaments' system and share what players can look forward to across all worlds and platforms!
If you'd like to know more about the Tournaments update or if there happens to be a particular topic not covered in this week's video please let us know! We're constantly listening out for questions from the Kingdoms community in the comments under each new video, so make yourself heard and we'll try to feature your question in a future release.
New Giveaway
Want to win Card Packs and Premium Tokens? Of course you do! Simply watch until the end of the video (or just skip ahead) to find how you could be one of our 10 winners! Be lucky enough to get yourself picked and you'll receive the following powerful prizes:
5 Random Packs
1 Super Random
1 Ultimate Random
1 7-Day Premium Token
On Thursday July 5th at 15:00 GMT 10 winners will be selected at random to receive their in-game loot. These prizes will be sent out to the winners via email in the form of a redeemable Stronghold Kingdoms code.
Good Luck!