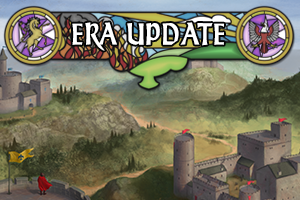 With new game worlds coming soon, today's community-driven update tweaks honour costs, lowers raze requirements and adds new Mac features!
Increased opportunities for small Lords to flourish, greater balance in the political landscape and new strategic challenges for veteran warlords. These were our goals with the gameplay changes made during our transition to the newer Era system and today we continue to refine the Era rule set. Implementing your most requested changes surfaced in the official Kingdoms forum and on social media, today's Era Worlds Update is a direct response to your feedback.
Era Worlds
Reduced Rank Required to Raze – Can't wait for the joy of finally wiping a pesky village from the map? Now you can begin razing as soon as you're ranked as Earl! By reducing the required rank down from Prince, we are giving players access to a full range of combat options much earlier in their play experience.
Increased Honour Costs for Ransacking – Community feedback suggests ransacking on current Era worlds is too powerful to allow for a balanced combat experience. As a result we have adjusted the honour costs required to launch a ransacking attack on fellow players.
Reduced Parish Building Costs – A well-developed capital village is the backbone of any flourishing parish, so we have reduced the amount of flags required to construct new guilds and structures.
Adjusted Glory Race Goals – Houses will now need to obtain 25% additional Glory to complete a round on EU worlds and DOUBLE the previous amount to complete a round on Global Conflict and Global Realm words. All other Era worlds' races remain unchanged.
Mac Version
Lords and Ladies who reign over their kingdom from a Mac have received a completely new client and user interface! Based on the iOS version of Stronghold Kingdoms, the new Mac version offers a slick design, intuitive menus and much faster implementation of future updates to the game!
New Worlds (Coming Soon)
We would like to thank all the players who have made this update possible by sharing their thoughts, feedback and suggestions on our official Stronghold Kingdoms forum. Rest assured we have much more planned for you this year including Global Realm 3, Europe 5 and more. Prepare to explore new worlds, wage war across new world types and check out the upcoming Events System! You'll need the practice, Sire. As some say our greatest nemesis could be plotting his return…