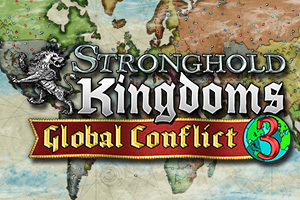 A new Global Conflict Era world is opening this week for thousands of aspiring Lords and Ladies across all platforms!
Sire, what would you do if the world was yours for the taking? Would you rage war across the globe and slay your enemies without due process, or would you live the peaceful life as a farmer on some remote island? You have until December 7 to decide!
With a map of 151 real world countries, Global Conflict 3 is one of the largest and most expansive world maps in Stronghold Kingdoms. Players from PC, Mac, iOS and Android will unite, compete and fight together for the throne of their home countries on this global battlefield! Will you manage to fight your way to the top under the new Era World gameplay rules?
Get ready and plan out your strategy before the Global Conflict 3 launch on Thursday December 7th at 3 pm. You may also want to keep an eye out for the client and Facebook news for a chance to win mighty card packs in celebration of next week's launch!