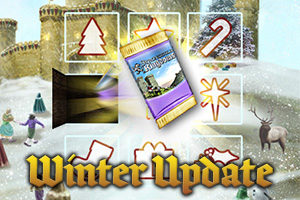 Log in daily to win Card Packs in the advent calendar or jump into your favourite world and scout festive resources!
As the days become colder and night sets in early Lords and Ladies can finally rejoice, because Christmas has come to Stronghold Kingdoms! Dive into a winter wonderland, scour the earth for precious treasures and plunder the new Kingdoms Advent Calendar for Card Packs and Premium Tokens.
Advent Calendar
Who needs chocolate or an overpriced phone when you can bask in free strategy cards and the resulting screams of terror from neighboring villages! Log in daily for your chance to win a Stronghold Kingdoms Card Pack (including Super and Ultimate Random Packs!) or a 7-Day Premium Token.
Here's how it works:
1. Log into Stronghold Kingdoms once a day.
2. Click on one of nine Advent Calendar doors.
3. Try a different door if you don't win the first time.
4. Come back tomorrow and do the same!
Christmas Scout Stashes
What's that laying in the beautiful snow? Sire, those are presents! Be the first to uncover these festive resource stashes and with a little luck you could find a Wheel Spin inside. After these presents have been opened the stash will revert to its original form be it Wood, Meat or Ale. So if you have no luck in the daily calendar, be sure to send out the Scouts before your neighbors do!
While the Advent Calendar will vanish on December 26th, both the snowy landscapes and special present resource stashes will remain until January 1st. Your chances of winning may depend on luck, but with two chances daily and a guaranteed prize on Christmas Day not a single farmer, trader or warlord should enter the new year empty handed!
Happy Holidays