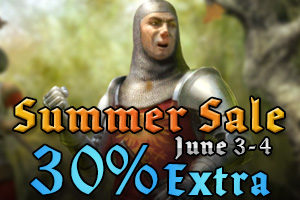 Fill your treasury with Crowns this weekend and receive a 30% bonus on each purchase!
Grow your armies, strengthen your castles or shower your subjects with ample feasts! With 30% extra Crowns on each purchase, you may choose to be a benevolent leader or expand your territories as a fierce warlord. What will you choose?
The flash sale will grant you 30% additional Crowns for any purchase until until 00:00 (GMT) on June 5. Gift purchases included!