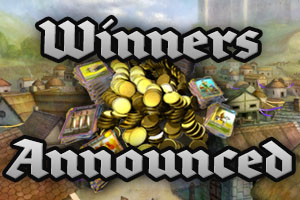 Love thy neighbour and win big! Compete in our Valentine's Day competitions to win Card Packs, Points and Tokens for you and your House
Love is in the air, Sire. There have been reports of increased flirting among your subjects. Lords and Ladies have been exchanging everything from chocolates to longing glances, meanwhile every banqueting table has been booked up for weeks! This can only mean one thing… It is the time of year for love, low taxes and generous Lords! This year let us bring gifts that will melt even the coldest and most battle-hardened of hearts, by which I mean heaps of strategy cards!
Claim your Kingdoms Valentines gifts and earn gifts for your friends by entering up to three giveaways.
1. Facebook Giveaway
You did it, Sire! When we asked you to share your love of Kingdoms last Tuesday, you recruited your soldiers, neighbours and countrymen to spread your love. Word has travelled far and, by working together as a community of Lords and Ladies, you've earned yourselves a great bundle of in-game items that is now available to ALL players. As of 10:00 GMT this morning, you have collectively Liked and Shared the news of Saint Valentine more than 5000 times across the worlds!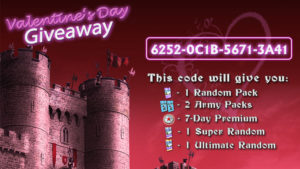 In doing so you have now unlocked an offer code containing the following prizes:
1 Random Card Pack
2 Army Packs
1 7-Day Premium Token
1 Super Random Pack
1 Ultimate Random Pack
Here is Your Code: 6252-0C1B-5671-3A41
Please Note:  The above code will expire on February 20th at 10:00 GMT.
How to redeem:
Log into the Kingdoms client or website
Click on 'Account Details'
Scroll down to the section titled 'Offer Codes'
Paste the code into the 'Redeem Code' box and hit enter
Find your prizes in-game in the 'Card Packs' and 'Premium Tokens' sections of the card screen
2. Valentine Shield Competition
We are now proud to announce the winners of the Stronghold Kingdoms Saint Valentine Shield Competition!
Given the hundreds of extraordinary coat of arms ranging from arrows through red hearts to loving couples in the Kingdoms gardens, it has been a really difficult decision picking the winner. As such we would like to thank each and every one of you for your incredible work. Each shield we've received was full of love, inventive, stimulating, but there can only be four winners…

Congratulations to Just The Just, NeFx, Julchen1968 & Laniakea! Their Saint Valentine Shields demonstrate a tremendous level of creativity, design and heart for the land of Kingdoms. To reward Just The Just, NeFx, Julchen1968 & Laniakea's heraldic skills we're giving them our festive Saint Valentine Shield prizes:
5 x Random Card Packs
2 x Super Random Card Packs
2 x Ultimate Random Card Packs
1 x 7-Day Premium Token
Didn't win this time? Be sure to Like us on Facebook and Follow us on Twitter, we've got a lot more competitions and giveaways planned for Stronghold Kingdoms. So stay tuned for further announcements and don't miss out on the next chance to win in our competitions. But for now, Happy Saint Valentine!
3. Love Brings Out The Goods
Love was truly is the air yesterday and the entire Stronghold Kingdoms community has profited from it! But only two couples of players in each world were able to receive Lord Cupid's special prizes.
In celebration of Saint Valentine, Lord Cupid launched a 1-day mini-competition, giving you the chance to win a set of amazing in-game prizes, including two Ultimate Random Packs. We and Lord Cupid thank everyone who has participated by forwarding their gifts reports! 62 lucky couples have been chosen at random to receive the giveaway prizes and we congratulate the following winners:
mouseears10, Johnner, sweetleaf420, Bohdisattva, Ethelon, Pitanga, jbentley, wesleychill, Charles Le Grand, King Arthur 1st, dodgerman20001, Frankie Doodle,  AffeMitWaffe, Leuchtklaue, Queen Olive Oil, oldPOPEYE, Muerte_rp, LORD CIGANO, zivilako, laaoluis, TheDK, MariaStuart, Oller Kaboller, barenscher, GgIgG, Mord, Gottbote Hermes, Suchti93,  Sire Leipzig, Elenell, Alafleo, vorador02, guinan, Timotious, norky, Blackmmoon, mariya007, insend, Ottoman3, Graf von Boyen, Pueo, Willbe, frenzy, Abuelita, GrayFoxHammer, Cathz, Angel War, King J R W, Ralphus, Martin von Ela, Nitram's, fredvomjupiter, Serea17, RafaBlackBee, jat1978, Alperi, Horn1974, Caryca I, Helen Nash, LordKrolik, moosaba, killzforfun, Lady of Shalott, old killer, trickthat, RioTiel, tiloragustus, jeffbaker, Xmartfire, VDD13, bronwenn, Doomkitten, Razzery, lingylee, LordAndrea, War_Ghost, J3z3b3l, Mandalorianer, The sparkys, SirWilliam88, Meygan, Mamakinz, Croat232, MaaBaa, sensei57600, frolon, fcb33, Pirlouis, raugantv, donalaucha, marlonharoldc, johanparrawtf, Kgizzle, Harry Dresden, growingshadow, JUST_4_BLOOD, kamtrix, DragonBlanco, DXKOR, Diego220599, jwilson3, Laella, beastm4ster, Skyr3aver, Duster_Log, kiekeboe, tvvstv, Le 1er, Ellice, Bubblyhydro, Lady_Layla, DuLe91, anna84, EXSSA, MisiekPL, AventadorXIII, Evania, FadlanPL, Blood Daimond, Hollandia, messerszmitt, Red_ Sonja, MilvusOne, lale
The above players will receive:
5 x Random Card Packs
• 2 x Super Random Card Packs
• 2 x Ultimate Random Card Packs
• 1 x 7-Day Premium Token
If you haven't been one of the lucky winners, do not despair! With an exponentially expanding community and new challenges ahead of you, plenty of opportunities for winning in-game prizes will arise in the course of this year. Make sure to follow us on Facebook and on Twitter for the latest news on competitions and giveaways!