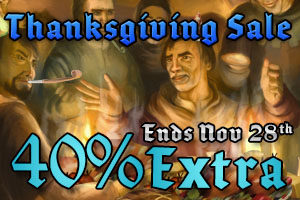 Enjoy a 40% bonus on all Crown purchases for the next 4 days – Ends Monday 28th November!
Tell me Sire, what are YOU thankful for? Are you thankful for the hardworking peasants who provide you with plentiful resources? Are you thankful for the brave soldiers that carry your banner onto the battlefield? Are you thankful for your trusted allies who support you in your rise to power? Take this wonderful opportunity to demonstrate your appreciation by giving back! Reward your peasants with festive rations, boost your troops' morale by shortening their travels to and from battle or gift your friends a bundle of Crowns for their loyalty.
Purchase any bundle of Crowns before next week and you'll receive 40% extra Crowns!
Please Note: The Thanksgiving Sale applies to all payment methods, Crown amounts and of course to gifts for your fellow players.