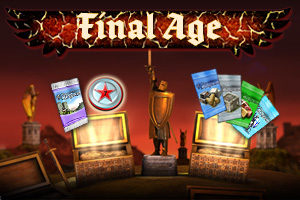 Play now on World 4 and share the news on Facebook to earn free card packs!
Facebook Giveaway
To celebrate our latest free update for Stronghold Kingdoms we're giving away the following bundle of prizes to all players, provided you can help us hit 5,000 Likes on Facebook!
Here's what you can win:
Super Random Pack
Army Pack
Defence Pack
Industry Pack
Food Pack
Premium Token (7-Day)
To enter simply follow these instructions:
Go to the Stronghold Kingdoms Facebook page.
Like the 'Final Age Now Live' post by clicking 'Like'.
Wait for the post to reach 5,000 Likes.
Check the client news feed for your code!
The code will be posted in an updated version of this news post when we reach 5k Likes. Good luck!
The Final Age
The fate of World 4 is now in YOUR hands… Will you wreak ultimate havoc and reap your prizes or will you fight for its existence for years to come?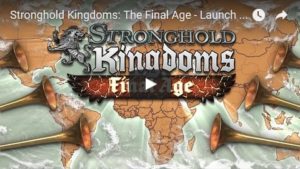 By winning the Sixth Age Glory Race, House 17 are the first ever to delve a game world into its Final Age and put it straight on the path to ever-lasting peace. Closed to new players joining the world, World 4 becomes the ultimate test of team play, strategy and the will of its players. Unlike any age change before, the Final Age introduces a completely new and unique gameplay: the fight for Royal Towers.
Starting with 150 Royal Towers distributed randomly across the world map, players must capture the towers for their Houses in order to activate the new 'End World' button. Featuring various beloved AI-castle designs, Royal Towers can only be attacked with captains and must be captured to change hands. When a player manages to capture a tower, the tower will be accredited to the player's House and the castle is rebuilt. Should the capturing player not belong to a House, the Royal Tower will become neutral.
With every new Glory Round, Royal Towers are re-distributed around the map and their total number decreases by 10 until only 20 are left. Once any single House is in control of all Royal Towers simultaneously, the House's Marshall may press the 'End World' button and bring the world with all its armies, villages and players to a halt.
When a world ends, its players are rewarded with plentiful in-game treasures to assist their rise to power on other game worlds. For a complete list of prize packages, ruleset changes and Royal Tower details, check out the official Stronghold Kingdoms Wiki.