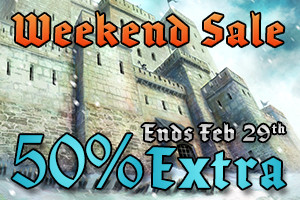 Our biggest sale ever includes all Crown bundles, payment methods and also applies to gifting!
Get 50% extra Crowns for the next 48 hours in our Flash Sale! Conquer changing sea conditions on Island Warfare with a few extra speed cards, claim a small corner of Global Conflict and expand your empire or take the fight to The Wolf himself on Rise of The Wolf!
Hold banquets, infiltrate factions, siege castles or simply give your peasants a little extra to eat. Quietly bolster your village economy or upset the balance of power on Worlds 1 to 9 with an expertly coordinated strike! Whatever your path in Stronghold Kingdoms this sale – The biggest in our five year history – Is here to give YOU the metaphorical firepower you need to crush your enemies, see them driven before you and hear the lamentations of their peasants.
This offer will remain active all weekend, ending at 00:00 GMT on Monday 29th February.
Don't miss out!